hvls fans

Are your HVLS fans made in the USA?
Yes, our HVLS fans are made and assembled in the USA.

How much do HVLS fans cost?
HVLS fans vary in size, number of blades, and blade colors. Because of these variables along with your facility layout, cost differs for each project. Please contact us so we can help you with a quote.

Do you have a warranty on your products?
Yes! EuroVent HVLS fans carry a warranty of five (5) years on all parts and components. The warranty period begins on date of shipment. The installation manual outlines complete warranty coverage information.

I have a technical question. Who can I talk to?
Give us a call at 1.888.433.0708 or fill out this form. We have experts with over 18 years of experience to help you with any question you may have.

How do I get replacement parts?
Please contact us if you are having any issues with your EuroVent HVLS fan. We can help coordinate replacement parts for your system, if needed.

How do I find a distributor?
If you are looking for a EuroVent Exhaust Extraction System or HVLS fan distributor, please fill out this form and we will contact you with a distributor in your area that would fit your needs.

Do you sell direct?
No. We sell through equipment distributors across the country because of their expertise and project installation. Please contact us and we can provide you with a local distributor specific to your project.
All orders must take place through an authorized EuroVent distributor or sales representative.

How are HVLS fans controlled?
EuroVent HVLS fans feature a Keypad control, which can operate with 1,3,5, or 10 fans.

How many HVLS fans do I need?
This depends on you're the size of your facility size, ceiling height, desired area and size of fan. To get a better understanding of what is best for you, please reach out to us.

How much area does an HVLS fan cover?
EuroVent HVLS fans cover as low as 9,200 square feet with an 8-foot diameter 5-blade HVLS fan, up to 18,700 square feet with a 24-foot diameter 3-blade HVLS fan. 

How is HVLS performance measured and what should I look for?
Not all HVLS fans are created equal and are not the same. When it comes to performance, look for:
Maximum Cubic Feet per Minute (CFM)
Efficiency Cubic Feet per Minute per Watt (CFM/W)
coverage area in square feet
dBA at Maximum RPM (needs to be less than 85 dBA; the rate at which long or repeated exposure to sound can cause hearing loss)

Can HVLS fans come in different colors?
Yes with an additional charge. EuroVent's HVLS fan blades come standard with a brushed aluminum finish. If you wanted a specific color, we do offer custom color match for an additional charge.

Is there a difference between a 3-blade and 5-blade HVLS fan?
Yes. More blades does not necessarily mean better performance. EuroVent's 5-blade fan is ideal for small spaces with low- or medium-height ceilings, where EuroVent's 3-blade fan is ideal for medium to large spaces with medium- to high-height ceilings.
EuroVent's 5-blade HVLS fan has diameter options of 8', 10', 12' or 14' and creates air movement coverage up to 54,900 cubic feet per minute.
EuroVent's 5-blade HVLS fan has diameter options of 16', 18', 20' or 24' and creates air movement coverage up to 164,900 cubic feet per minute.

What other ceiling fan requirements are there?
In addition to DOE Efficiency legislation, HVLS fans must be in accordance to Fire code – nfpa 13. This code includes:
Maximum fan diameter shall be 24 ft.
Fan shall be centered between 4 sprinklers
Vertical clearance to sprinkler deflector shall be minimum of 3 ft.
Fans shall be interlocked to shut down upon receiving fire alarms
HVLS fans must also me in accordance of ASHRAE 55 – Comfort Cooling. ASHRAE 55 establishes methodology for quantifying the effect of air velocity on thermal comfort

What is a direct drive fan? What is a conventional (or gearbox-driven) motor? And what is the difference?
A direct drive fan is a smaller, quieter, more efficient motor compared to a gearbox-driven motor. With a gearbox-driven fan, the motor provides powers the gearbox, which in turn powers the blades to turn. A direct drive uses a motor to power the blades, eliminating the need and issues related to a gearbox. 

Are there efficiency standards for ceiling fans?
Yes. The Department of Energy (DOE) sets standards for efficiency in ceiling fans by measuring cubif feet per minute per watt (CFM/W) used to power the fan.
All EuroVent HVLS fans cover nearly twice the DOE's minimum standard of CF/W.

How do HVLS fans save energy?
Using low speeds, HVLS fans use a fraction of the energy of conventional fans while providing a comfortable indoor breeze. The 3-5 mph breeze generated by a EuroVent HVLS fan creates a cooling sensation by as much as 10°F, supplementing air conditioning systems for a higher thermostat setting.
With destratification, an HVLS fan creates a more uniform and comfortable temperature, further allowing thermostat settings to maintain for longer periods of time.
Direct drive motors in HVLS fans use 20% less energy than gearbox-driven motors.
EuroVent HVLS fans generate up to 30 percent more airflow and only need half the amount of horsepower compared to other HVLS fans.

What is destratification?
Destratification is the process of mixing the rising warmer air trapped at the ceiling with the colder air at  the floor level. This creates a more uniform and comfortable temperature from floor to ceiling. It also allows for thermostat settings to maintain for longer periods of time to reduce energy costs.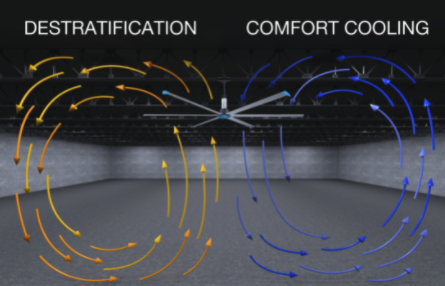 How fast are HVLS fans?
EuroVent HVLS fans generally range in speed of 3-5 mph.

How big are HVLS fans?
EuroVent HVLS fans can range in size from 8 feet up to 24 feet in diameter.

Why would I need an HVLS fan?
It is always wise to have great air circulation, especially when operating a larger facility. Facilities that benefit from HVLS fans the most are:
– Office spaces
– Restaurants and bars
– Education facilities
– Supermarkets
– Retail stores
– Fitness centers
– Airports
– Gyms
– Agricultural facilities
– Manufacturing facilities
– Automotive facilities
– Distribution Centers
– Stadiums & Arenas

What is an HVLS Fan?
An HVLS fan, or High-Volume Low-Speed fan is a larger ceiling fan that moves at a slow speed while circulating a large amount of air.

How can I reach you?

Where do you ship from?
We ship all of our products from our Barberton, Ohio facility, zip code 44203.